Product Overview
Best Hyaluronic Acid with Chondroitin Sulfate 180 Capsules
Supports healthy joints*

Supports youthful skin*
There are many different reasons for supplementing your natural supply of Hyaluronic Acid. Currently, the most popular uses of Hyaluronic acid supplements and products are to combat signs of aging such as wrinkles and as therapy for certain joint ailments. Hyaluronic acid supplements also boast the ability to combat and help with everything from sexual dysfunction to sleep problems.
Hyaluronic Acid (HA) is a special mucopolysacharide that exists naturally in all living organisms. In the human body, it is found in greatest concentrations in the synovial fluid of articular joints for lubrication, the vitreous humor (fluid) of the eye, and most abundantly in the skin. As we age, the body produces lesser and lesser Hyaluronic Acid. The joints become stiff, the movement painful and the skin becomes dry and wrinkly.
Main Benefits of Hyaluronic Acid Supplementation
• Hyaluronic acid is for men and women in their 30s and 40s who are
just beginning to notice joint problems and wrinkles.
• Hyaluronic acid is an internal cosmetic to hydrate (moisturize) the
skin with proven absorption and bioavailability.
• Hyaluronic acidmoisturizes the skin from the inside out.
• Hyaluronic acid is for people who need to ease the flexing of their
joints, especially their knees, by moisturizing their joints.
• Hyaluronic acid is for seniors who have established joint conditions.
Some examples of other reported Hyaluronic acid benefits:
• Increased Mobility • Softer Skin • Faster Wound Healing • Fibromyalgia Relief • Retinal Lubrication • Clearer Vision • Dry Skin Relief • Dietary Benefits • Improved Sleep • Stabilized Emotions • Improved Vitality • Reduced Fine Lines • Hair Growth • Hair Color Restoration • Tissue Reconstruction • Improved Bone Density • Increased Mental Alertness • Improved Muscle Strength • Increased Sexual Potency • Strengthening of Internal Organs.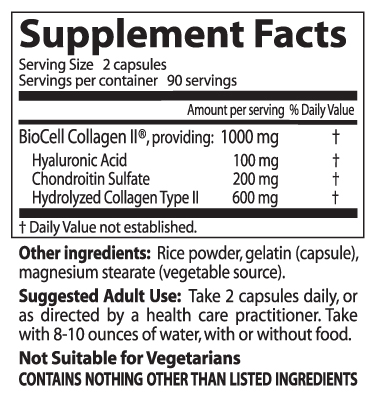 *These statements have not been evaluated by the FDA. This product is not intended to diagnose, cure or prevent any disease.
Reviews