Product Overview
Best Collagen Types 1 & 3 - 240 Capsules / 500 mg

Essential structural support for hair, skin, nails tendons, ligaments and bones*

Collagen is the major structural protein in connective tissue and the most abundant protein in the human body. It is responsible for maintaining the strength and flexibility of bones, joints, skin, tendons, ligaments, hair, nails, blood vessels and eyes, among other tissues throughout the body.


Doctor's Best Collagen Type 1 & 3 may help:
Builds bone matrix. Collagen is the mechanical strength of bone.

Corrects weak, broken, split, ridged and damaged nail beds.

Thickens fine hair, adds body and slows down hair loss.

Repairs connective tissues for improved elasticity and blood vessels

Help improve circulation; and promotes wound healing and a clearer complexion.
*More information below supplement facts*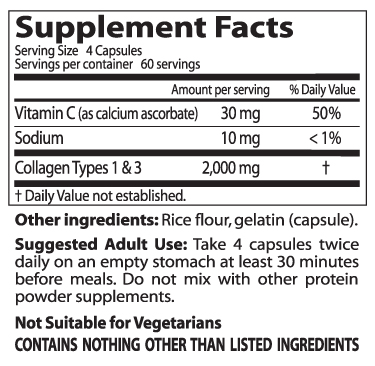 Does Not Contain: milk, egg, wheat, gluten, corn, soy, sugar, sweeteners, starch, or preservatives.


There are a number of different types of collagen; the most prevalent two in the human body are types I and III. In fact, type I collagen is the most abundant protein in the human body – it is present in almost every type of tissue.1 Bone contains almost exclusively type I collagen. The collagen network in bone confers structural strength to bone tissue and prevents bone fragility. Deficient or defective collagen production, as can occur with aging, is a risk factor for fractures and other bone deformities.2

Type I collagen is also the major protein found in skin connective tissue where it is responsible for providing skin with its tensile strength and resiliency.3 Type III collagen is found at high levels in cardiovascular tissue and also in newly developing skin. It is essential for the proper development of the cardiovascular system and skin tissue. Types I and III collagen are often found together in the same tissues, as each form complements the structural integrity of the other.

Vitamin C is required for the synthesis of collagen and participates at nearly every step of the process. The critical role of vitamin C involves preventing the inactivation of several key enzymes required for collagen biosynthesis. Studies suggest that vitamin C enhances the function of fibroblasts and promotes an increased level of collagen deposition by these cells in human tissue.4 Vitamin C also functions to promote the strengthening of the collagen matrix and supports an increased level of collagen density in organs and tissues. These effects of vitamin C also suggest that intake levels of this vitamin may be inadequate as we age. As oxidative stress in tissues increases with age, there is an increased requirement for this crucial antioxidant vitamin to promote optimal collagen production.


Scientific References
1. Jensen LT, Høst NB. Cardiovasc Res. 1997 Mar;33(3):535-9.
2. Vashishth D. Curr Osteoporos Rep. 2007 Jun;5(2):62-6.
3. Callaghan TM, Wilhelm KP. Int J Cosmet Sci. 2008 Oct;30(5):313-22.
Sci U S A. 1981 May;78(5):2879-82.

*This statement has not been evaluated by the Food and Drug Administration. This product is not intended to diagnose, treat, cure or prevent any disease.

Reviews