Enzymatic Therapy DGL Ultra Fructose-Free 90 German Chocolate Chewable Tablets Best by date 06/14/13
Enzymatic Therapy DGL Ultra Fructose-Free 90 German Chocolate Chewable Tablets Best by date 06/14/13
Enzymatic Therapy DGL Ultra Fructose-Free 90 German Chocolate Chewable Tablets Best by date 06/14/13
Shipping:
Calculated at checkout
Maximum Purchase:
10 unit(s)
---
---
Product Description
Best by date 06/14/13
90 German Chocolate Chewable Tablets

Fast, soothing, digestive relief!

Finally, a DGL product that works fast and tastes great too!

DGL ULTRA extra-strength deglycyrrhizinated licorice stimulates and accelerates the natural protective factors in the digestive tract, which helps relieve occasional stomch discomfort immediately!

Provides more power to relieve.*
10:1 concentrate uses 10 pounds of licorice root to make 1 pound of extract.

3X the strength of many DGL products.

Same, proven species of licorice demonstrated effective in clinical trials.1,2
Great tasting, immediate relief.*
Delicious German chocolate, easy-to-take chewable tablets.

UltraSoothe DGL offers immediate benefits and maximum absorption.*
Safe and effective.
Free of compounds in licorice that may adversely affect blood pressure.

Licorice boosts the production of mucin, a natural compound which coats and protects the lining of the stomach and intestines.*

Glycine helps keep the stomach lining strong.*
Why buy this product?
DGL ULTRA combines great taste with fast relief.* Sometimes, DGL can be acquired taste, especially for anyone new to supplements seeking an alternative for digestive support.*

The flavor alone practically sells the product itself. In fact, it was voted the #1 best-tasting DGL!+



1. Engqvist A. Double-blind trial of deglycyrrhizinated liquorice in gastric ulcer. Gut. 1973 Sep;14(9):711-5.
2. DImperio N. Double-blind trial in duodenal and gastric ulcers. Cimetidine and deglycyrrhizinized liquorice. Acta Gastroenterol Belg. 1978 Jul-Aug;41(7-8):427-34.
+Double-blind taste preference test of DGL ULTRA regular vs. competitive brands of chewable DGL. May 2008.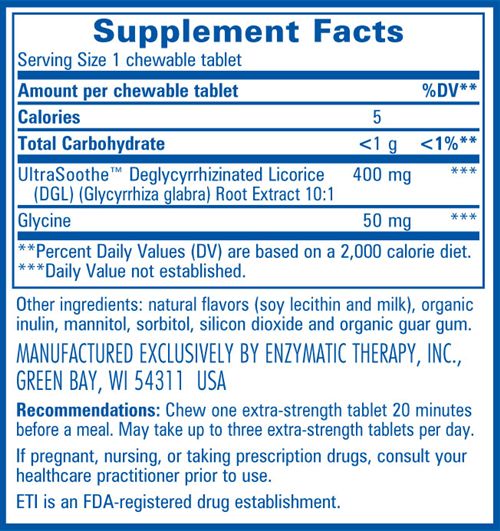 *This statement has not been evaluated by the Food and Drug Administration. This product is not intended to diagnose, treat, cure or prevent any disease.
Find Similar Products by Category
Customers Who Viewed This Product Also Viewed